May Newsletter
Delphine's Quilt Shop, LC
"Piecing the past and the present into the heirlooms of tomorrow!"
Store hours: 10 am to 6 pm Monday thru Saturday



QUILT CRUIZINE SHOP HOP, 2018 - Monday, May 21st!
9:00 am to 7:00 pm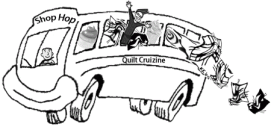 Journey on a deluxe coach from Delphine's Quilt Shop LC to The Quilt House of Indian River, Hearts to Holly of Charlevoix and Cousin's Quilt Shop in Bellaire. Or if you prefer, start at one of the other shops; all shops will have a coach. Everyone is offering 10% off purchases store-wide, with some exclusions. There will be snacks, fabulous box lunches, drinks, demos, entertainment on the bus and a live trunk show at each shop. Why not visit with old and new friends and leave the driving to us!

The cost is $50.00 per person and space is limited so call today to reserve your spot. 989-732-1252


---
Memorial Day Hours
Delphine's will be open on Memorial Day from 10:00 am until 3:00 pm.



---

Go to https://www.delphinesquiltshop.com/newsletter.htm if your email server doesn't show this newsletter in its entirety.


---
Clubs at Delphine's
There is no fee to attend our club meetings (even the coffee and tea are free). You can bring your own lunch, or treat yourself to a lunch made at one of the restaurants within walking distance.
Just Sew With Us
Mondays - May 7, 14, 21, 28 (yes, on Memorial Day - we will be open from 10am to 3pm)

Whether you want to work by hand or by machine you are welcome.

Comfort Quilters
Thursday, May 10

This group meets on the 2nd Thursday of each month. They work on lap quilts of no particular theme that are donated to veterans through the Otsego County Veterans Affairs Office. All fabrics, patterns and battings are provided by Delphine's and donations, or bring your own. Volunteers who want to work from home are asked

Quilts of Valor Club

Thursday, May 17
This group meets on the 3rd Thursday of each month to work on quilts that are donated to veterans and current servicemen. So far, forty-plus quilts have been given away! All fabrics, patterns and battings are provided by Delphine's and donations.
---

Upcoming Classes


Jelly Roll Rug Class
Thursday June 7; 10:30 am - 3:30 pm
Cost is $10.00 (cost does not include pattern)
This rug is all machine sewn; no braiding or crocheting. Make it from a 42 piece 2-1/2 inch strip roll set or use up your scraps. Sign up for this class at a great price as Delphine needs to be making a store sample anyway.



Machine Quilting w/ Delphine
Wednesday, May 30th or Wednesday, June 20th
3:00 to 6:00 pm

both days


Cost is $20.00


Learn how effective straight-line quilting can be and also explore your sewing machine's hidden talents as you drop those feed dogs and begin moving the quilt sandwich with your hands! Learn to meander, stipple, make simple feathers, do handwriting and more.
Two Fabric Bargello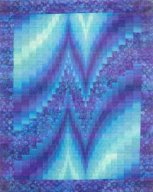 Saturday, May 26th or Wednesday, June 13th
11:00 am to 4:00 pm both days
Cost is $30.00


Delphine, who has made 3 quilts from this pattern, will lead you through the process of making the Lighting Bolt design of this easy but complicated looking design. Even beginners can have success with this class. We limit this class to 5 students so don't wait too long to sign up.
---
BLOCK OF THE MONTH Programs
Prices are per month (shipping is extra) for the duration of the program. No cancellations are allowed and you must sign up with a credit card. After the initial deposit of the last month's payment, your card will not be charged until the middle of each month when we process the packages for that month.


Mineral Matrix by Timeless Treasures and A Wing and a Prayer

9
month program
- Starts mid - May
This 104" x 104" quilt is made with 12 star blocks, pieced sashing and borders.
The Tonga Quarry Collection offers a beautiful decorative palette of soft grays and mocha that shade into cool steel blues and rich warm browns, with a touch of dusty aqua.
Delphine has finished the first 4 blocks and has started piecing the cornerstones and sashing. This is going to be one pretty quilt! We will be using the exact fabrics pictured and the price includes the pattern and all the fabric for the top and binding.

Cost per month for

9

months is $26.99 plus $5.00 per month for shipping, if needed. You will receive 2 blocks per month for the first 6 months and then the sashing, cornerstones and final borders the last 3 months.
Graphic Gems by Sarah Maxwell and Marcus Fabrics
9 month program

The "Graphic Gems" 9 month program from Marcus Textiles started in March of 2018 but there are still openings. Delphine has finished 2 sections of this quilt and has them hanging at the shop. The mix of gray with bright green and blues is quite pretty. We are using the Lapis & Emerald colorway for this 76" x 87" quilt. The cost for this all batik project is $28.99 $24.99 per month and includes all the fabric for the top, the binding and the pattern. Shipping is $6.00 per month if needed.




---
Recipe of the Month
Little Quiches

These little quiches are perfect for lazy mornings when you don't feel like cooking. Just make up a batch, put them in the frig and pop them in the microwave to warm up when ready for a yummy breakfast!

Base:
12 large eggs

½ cup heavy cream

¼ cup milk

2 TBSP fresh parsley, chopped

2 TBSP fresh basil, chopped (or other herb)

¼ tsp. salt

¼ tsp. pepper
I just used dried herbs, 1 tsp of each. Also I just use milk.
Veggies*: All, some, or none. Up to you.
1 cup broccoli, cut into teeny tiny florets

1 cup fresh spinach, roughly chopped

1 red bell pepper, chopped small

¼-1/2 cup onion, diced fine
Add-ins (optional):
1½ cups cheddar, gruyere, mozzarella, or other cheese, divided

1 lb. bacon, sausage, or other meat, fully cooked (I used a cup of diced up ham)
INSTRUCTIONS
If using meat (bacon, sausage, etc.), cook it fully first. Set it aside to cool.

Preheat oven to 375 degrees F., and thoroughly grease a muffin tin. (I have needed 18 – 24, depending on how much stuff is in the egg goop.)

In a large bowl, whisk together the eggs, cream, milk, parsley, basil, salt, and pepper.

Get all your veggies diced up and ready to go. Optionally, you can saute your onion, but I didn't notice a big difference between weeks I did and weeks I didn't.) Set aside and allow to cool.

Add all the veggies to the bowl with the egg mixture, and stir to combine. Stir in half of the cheese, and all of the meat, if using.

Using a ¼ cup measure to scoop the mixture into the muffin pan/s. Fill to about ¼ inch from the top, then sprinkle a small amount of reserved cheese over each. Bake for 20-25 minutes, or until the egg is fully set and the cheese has just started to turn golden on top.

Let cool for 5-10 minutes before running a butterknife around each one to loosen. Some of them are going to stick a bit anyway.
---