Delphine's Quilt Shop, LC
"Piecing the past and the present into the heirlooms of tomorrow!"
Store hours: 10 am to 6 pm Monday thru Saturday


The Sew Musical Row x Row Experience 2018 starts on Thursday, June
21st. You can read all the particulars at this web site rowbyrowexperience.com or come into the shop and we will explain it to you.
A major change this year, is that the FREE patterns no longer need to be for blocks 9" x 36", so you will be seeing a variety of block sizes.
Delphine's block is titled "Quilting Makes My Heart Sing". The free 18" x 18" pattern will be available starting on June 21st. We will also have fabric kits and paper piecing sheets for people who prefer to piece log cabin blocks with that method.
To celebrate the start of Row x Row 2018, from June 21st thru June 30 we are offering our Christmas Fabrics at 20% off! Don't wait until November to start that Christmas project. Plus, all Sale Area Fabrics will be $6.00 a yard with a minimum 1 yard cut, and there will be other In-Store Specials!

---
July 4th Hours
Delphine's will be open on Wednesday, July 4th from 11:00 am until 3:00 pm.



---

Go to https://www.delphinesquiltshop.com/newsletter.htm if your email server doesn't show this newsletter in its entirety.


---
Clubs at Delphine's
There is no fee to attend our club meetings (even the coffee and tea are free). You can bring your own lunch, or treat yourself to a lunch made at one of the restaurants within walking distance.
Just Sew With Us
Mondays - June 4, 11, 18, 25

Whether you are a beginner or an accomplished quilt maker or if you want to work by hand or by machine you are welcome.

Comfort Quilters
Thursday, June 14

This group meets on the 2nd Thursday of each month. They work on lap quilts of no particular theme that are donated to veterans through the Otsego County Veterans Affairs Office. All fabrics, patterns and battings are provided by Delphine's and donations, or bring your own. Volunteers who want to work from home are asked

Quilts of Valor Club
Thursday, June 21
New members are always welcome! This group meets on the 3rd Thursday of each month to work on quilts that are donated to veterans and current servicemen. So far, forty-plus quilts have been given away! All fabrics, patterns and battings are provided by Delphine's and donations.
---
Upcoming Classes


Jelly Roll Rug Class
Friday, July 20; 10:30 am - 3:30 pm
Cost is $10.00
This rug is all machine sewn; no braiding or crocheting. Make it from a 42 piece 2-1/2 inch strip roll set or use up your scraps. Sign up for this class at a great price as Delphine needs to work on another store sample anyway.



Machine Quilting w/ Delphine


Wednesday, June 20th or Thursday, August 2nd
3:00 to 6:00 pm

both days


Cost is $20.00


Learn how effective straight-line quilting can be and also explore your sewing machine's hidden talents as you drop those feed dogs and begin moving the quilt sandwich with your hands! Learn to meander, stipple, make simple feathers, do handwriting and more.
Two Fabric Bargello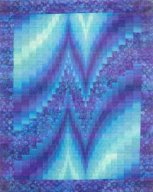 Wednesday, August 29
11:00 am to 4:00 pm
Cost is $30.00


Delphine, who has made 4 quilts from this pattern, will lead you through the process of making the Lighting Bolt design of this easy but complicated looking design. Even beginners can have success with this class. We limit this class to 5 students so don't wait too long to sign up.
---
BLOCK OF THE MONTH Programs
Prices are per month (shipping is extra) for the duration of the program. After the initial deposit of the last month's payment, your card will not be charged until the middle of each month when we process the packages for that month.


Mineral Matrix by Timeless Treasures and A Wing and a Prayer

9
month program
- This program has a waiting list
This 104" x 104" quilt is made with 12 star blocks, pieced sashing and borders.
The Tonga Quarry Collection offers a beautiful decorative palette of soft grays and mocha that shade into cool steel blues and rich warm browns, with a touch of dusty aqua.
Delphine has finished the first 4 blocks and has started piecing the cornerstones and sashing. This is going to be one pretty quilt! We will be using the exact fabrics pictured and the price includes the pattern and all the fabric for the top and binding.

Cost per month for

9

months is $26.99 plus $5.00 per month for shipping, if needed. You will receive 2 blocks per month for the first 6 months and then the sashing, cornerstones and final borders the last 3 months.
These pillowy soft dinner rolls are lightly, irresistibly sweet, thanks to pineapple juice and brown sugar. The pineapple flavor is subtle, but it'll have you going back for bite after bite. Sweet dough rises slower than those without sugar, and these are no exception. Power through the long rises though; these addictive buns are so worth it.
By the way, this dough makes absolutely delicious hamburger buns; see the tips at the bottom of the recipe for complete instructions.