July Newsletter
Delphine's Quilt Shop, LC
"Piecing the past and the present into the heirlooms of tomorrow!"
Store hours: 10 am to 6 pm Monday thru Saturday


Any day spent sewing is a good day. We hope you are taking time to be with needle and thread during these hot July days!
The Sew Musical Row x Row Experience 2018 has begun and will continue until September 4th, 2018. You can read all the particulars at

rowbyrowexperience.com

or come into the shop and we will explain it to you.
A major change this year, is that the FREE patterns no longer need to be for blocks 9" x 36", so you will be seeing a variety of block sizes.
Delphine's block is titled "Quilting Makes My Heart Sing" and the free 18" x 18" pattern is yours for the asking. We have fabric kits priced at $15.99 and $17.49 (includes binding).
---
Dear Fellow Quilters,


Our group which meets monthly at Delphine's Quilt Shop was approached by Mr. Bob Green, vice-president of Mid-Michigan Honor Flight who is organizing an honor flight for 65 veterans from Northern Michigan. The flight will leave from Traverse City and fly to Washington, DC in late September for a day of sightseeing and a visit to the war memorials including the WWII Memorial and the Viet Nam Wall. Mr. Green would like each veteran on the flight to be given a patriotic lap quilt (approximately 40" x 60") to thank them for their service and as a memento of the Honor Flight.

Obviously, 65 lap quilts is quite a tall order and he wants them by the beginning of September 2018!! We are asking your guild to help with this endeavor. If individuals and groups would help we can reach our goal. He asks that the quilt be patriotic – red, white, and blue but obviously made with quality fabric, quilted if possible, and bound just like the quilts we make for our loved ones.

Won't you please help? The patterns can be simple in design – we aren't looking for intricate piecing, just warm and cozy quilts to show our appreciation for the sacrifices of these veterans. Please contact us so that we can determine how close we are to our goal and for answers to any questions that you may have. Contact Judy (989-350-0157), Diane (231-944-9654) or Delphine (989-732-1252). Thank you so very much. We look forward to hearing from you.

Very truly yours,

Judy, Diane and Delphine


---

Go to https://www.delphinesquiltshop.com/newsletter.htm if your email server doesn't show this newsletter in its entirety.


---
Clubs at Delphine's
Consider joining one of our groups for one day or come on a regular basis, all are welcome. You can bring your own lunch, or treat yourself to a lunch made at one of the restaurants within walking distance.

Just Sew With Us
Mondays - July 9th, 16th, 23rd, 30th

Whether you are a beginner or an accomplished quilt maker or if you want to work by hand or by machine you are welcome.

Comfort Quilters
Thursday, July 12th

This group meets on the 2nd Thursday of each month. They work on lap quilts of no particular theme that are donated to veterans through the Otsego County Veterans Affairs Office. All fabrics, patterns and battings are provided by Delphine's and donations, or bring your own. Volunteers who want to work from home are asked

Quilts of Valor Club
Thursday, July 19th
New members are always welcome! This group meets on the 3rd Thursday of each month to work on quilts that are donated to veterans and current servicemen. So far, forty-plus quilts have been given away! All fabrics, patterns and battings are provided by Delphine's and donations.

4" x 5" Club
Saturday, July 14th
This club is nearly done meeting and oh, are the 4" x 5" blocks adorable!

---
Upcoming Classes
Jelly Roll Rug Class
Friday, July 20; 10:30 am - 3:30 pm
ADDITIONAL DATE - July 27th; 10:30am - 3:30pm
Cost is $10.00
This rug is all machine sewn; no braiding or crocheting. Make it from a 42 piece 2-1/2 inch strip roll set or use up your scraps. Sign up for this class at a great price as Delphine needs to work on another store sample anyway.
Machine Quilting w/ Delphine
Thursday, August 2nd
3:00 to 6:00 pm
Cost is $20.00
Learn how effective straight-line quilting can be and also explore your sewing machine's hidden talents as you drop those feed dogs and begin moving the quilt sandwich with your hands! Learn to meander, stipple, make simple feathers, do handwriting and more.
Two Fabric Bargello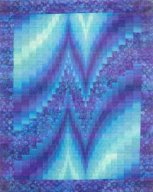 Wednesday, August 29
11:00 am to 4:00 pm
Cost is $30.00
Delphine, who has made 4 quilts from this pattern, will lead you through the process of making the Lighting Bolt design of this easy but complicated looking design. Even beginners can have success with this class. We limit this class to 5 students so don't wait too long to sign up.
---
BLOCK OF THE MONTH Programs

Prices are per month (shipping is extra) for the duration of the program. After the initial deposit of the last month's payment, your card will not be charged until the middle of each month when we process the packages for that month.


Graphic Gems by Sarah Maxwell and Marcus Fabrics
9 month program - We still have openings in this program.

The sample is pieced and is being quilted so it will be on display soon. The fabric is distributed as packs of 10" squares each month. Instead of using the new squares each month Delphine went back to her leftover squares, from previous months, and was able to preserve 52 squares which she used for most of her backing. Only 2 1/2 yards of additional fabric was needed for the back!

The "Graphic Gems" 9 month program from Marcus Textiles started in March of 2018 but there are still openings. Delphine has finished 2 sections of this quilt and has them hanging at the shop. The mix of gray with bright green and blues is quite pretty. We are using the Lapis & Emerald colorway for this 76" x 87" quilt. The cost for this all batik project is $28.99 $24.99 per month and includes all the fabric for the top, the binding and the pattern. Shipping is $6.00 per month if needed.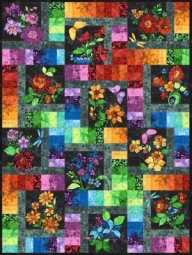 Enchanted Garden Block of the Month featuring "Floragraphix Batiks IV" by Jason Yenter for In the Beginning Fabrics.

This BOM will begin in November 2018 and run for 12 months at a cost of $12.99 per month. Kits will include patterns and all fabrics needed to complete the top and binding. Each month you will receive fabric for the floral appliques and background. NOTE: These are NOT precut laser-fused applique pieces. The finished quilt is approximately 48 1/2" x 64 1/2" quilt.







NEW AGED MUSLINS have become a quilter's favorite new basic, often mixed in with Marcus prints for an interesting alternative to true solids. Now, designer Krisanne Watkins of Quail Valley Quilts brings us "Stargazing" a beautiful new BOM program that casts these gorgeous colors and subtle textures in their own starring role...

Pure and simple, Krisanne's design was inspired by color itself. "Color adds so much depth and texture to my world. My design inspiration for 'Stargazing' is based on that premise. The beautiful, rich colors of New Aged Muslins served as the spark of inspiration to design a new project." Krisanne adds interest to the program by naming each star after a celestial body, such as Pegasus, Orion, Vega and others."

Over the year-long process, quilters will immerse themselves in these saturated, not-quite-solid tones, using easy piecing techniques to create this 92" x 92" masterpiece.

This exciting program begins in September and runs for 13 months (one block per month, plus one month to finish)

The cost is $14.99 per month w/o backing or, for only $4.00 more each month($18.99), get the 8 yards of slate blue backing (20% off) also!



---
Recipe of the Month
Delphine's Cousin Jane's Marinated Carrots

1 lb carrots-either baby cut in half long way, or, crinkle cut
Boil carrots in salted water till soft & drain.
While carrots boil, t
hinly slice ½ of a large onion AND ½ of large green pepper
Mix these 3 items.
Mix in saucepot on stove:
1 can tomato soup
¼ c. vegetable oil
1/3 c. sugar
1/3 c. vinegar (I use plain, my mom used to use red wine vinegar)
¼ t. each, salt & pepper
Boil these 5 items for a minute - till sugar is dissolved.
Pour this sauce over carrots, onion & green pepper and refrigerate overnight, at least.
The longer the vegetables marinate, the better the mixture tastes.
---