September Newsletter
Delphine's Quilt Shop, LC
"Piecing the past and the present into the heirlooms of tomorrow!"
Store hours: 10 am to 6 pm Monday thru Saturday





LABOR DAY WEEKEND HOURS


10am to 6pm Saturday, September 1st


OPEN

11am - 3pm on

Monday

, the 3rd!
---
10th Anniversary Celebration
Mark your calendars for the first week-end of October, Friday the 5th and Saturday the 6th. We will be celebrating our 10th Anniversary with a Free Quilt Show, door prizes, food, balloons and specials! The Quilt Show will be held at the Friendship Church which is only 5 blocks away from the shop.

If you have a quilt that you made with supplies purchased at the shop, we are interested in displaying it. Please send Delphine an e-mail at delphines@frontier.com with the following: a picture, quilt size, the pattern name, and your story about it. We may not be able to display all the quilts offered but
we will give it a try.
---
The Sew Musical Row x Row Experience 2018 will continue until September 4th, 2018. The Hibernation Period starts on September 5th and our pattern will cost $3.99 vs being free. The kits will still be for sale in the shop but not on-line until November 1. If you would like to reserve a kit please call or e-mail us with your name and phone number and we will set aside a kit for you to ship in November.
Delphine's block is titled "Quilting Makes My Heart Sing" and the fabric kits are priced at $15.99 and $17.49 (includes binding).
---
Thanks to the generous spirit of the quilting community, we have surpassed our goal of 65 quilts for the Honor Flight leaving from Traverse City this September! We expect to have enough quilts for the Mid-Michigan Spring 2019 flight as well!


If you would like to help, we are in need of people who can quilt and bind some of the quilt tops that have been turned in. Plus, it's not too late to bring in completed finished quilts. Please contact us for answers to any questions that you may have. Contact Judy (989-350-0157), Diane (231-944-9654) or Delphine (989-732-1252). Thank you so very much. We look forward to hearing from you.

Very truly yours,
Judy, Diane and Delphine
___________________________________________________________________________________________________


Go to https://www.delphinesquiltshop.com/newsletter.htm if your email server doesn't show this newsletter in its entirety.

PLEASE READ
Time for 2 odd questions... #1: Are you are the quilter who went to an estate sale on Sunshine Lane and purchased a bag of fabric pieces from Susan? If so, I would like you to call me. In that bag was a seat cushion cover made from very pretty floral fabric. The chair that the cushion cover was made for was hiding under a green slip cover and the new owner of the chair would love to have the matching cover.

#2: Are you the quilter who bought my Hintenberg hand quilting floor frame, at least a year ago? I have found the two end pieces and would like to get them to you. Again, please call if this is you.

---

Clubs at Delphine's
Consider joining one of our groups for one day or come on a regular basis, all are welcome. You can bring your own lunch, or treat yourself to a lunch made at one of the restaurants within walking distance.
Mondays - September 10, 17, 24

Whether you are a beginner or an accomplished quilt maker or if you want to work by hand or by machine you are welcome.

Comfort Quilters
Thursday, September 13

This group meets on the 2nd Thursday of each month. They work on lap quilts of no particular theme that are donated to veterans through the Otsego County Veterans Affairs Office. All fabrics, patterns and battings are provided by Delphine's and donations, or bring your own. Volunteers who want to work from home are asked

Quilts of Valor Club

Thursday, September 20
New members are always welcome! This group meets on the 3rd Thursday of each month to work on quilts that are donated to veterans and current servicemen. So far, forty-plus quilts have been given away! All fabrics, patterns and battings are provided by Delphine's and donations.


---

Upcoming Classes
Jelly Roll Rug Class
Friday, September 7th or Friday, October 26- 10:30 to 3pm
Cost is $10.00
This rug is all machine sewn; no braiding or crocheting. Make it from a 42 piece 2-1/2 inch strip roll set or use up your scraps. Sign up for this class at a great price as Delphine wants to make another rug anyhow and enjoys the company while doing so.
Machine Quilting w/ Delphine

Wednesday, September 5th
10:30 to 2:00 pm
Cost is $20.00
Learn how effective straight-line quilting can be and also explore your sewing machine's hidden talents as you drop those feed dogs and begin moving the quilt sandwich with your hands! Learn to meander, stipple, make simple feathers, do handwriting and more.
Two Fabric Bargello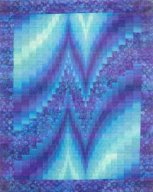 Wednesday, October 24
11:00 am to 4:00 pm
Cost is $30.00
Delphine, who has made 4 quilts from this pattern, will lead you through the process of making the Lighting Bolt design of this easy but complicated looking design. Even beginners can have success with this class. We limit this class to 5 students so don't wait too long to sign up.
---
BLOCK OF THE MONTH Programs

Prices are per month (shipping is extra) for the duration of the program. After the initial deposit of the last month's payment, your card will not be charged until the middle of each month when we process the packages for that month.


Graphic Gems by Sarah Maxwell and Marcus Fabrics
9 month program - We have just a few openings in this program since we hung up the completed quilt!

The fabric is distributed as packs of 10" squares each month. Instead of using the new squares each month Delphine went back to her leftover squares, from previous months, and was able to preserve 52 squares which she used for most of her backing. Only 2 1/2 yards of additional fabric was needed for the back!

The mix of gray with bright green and blues is quite pretty. We are using the Lapis & Emerald colorway for this 76" x 87" quilt. The cost for this all batik project is $28.99 $24.99 per month and includes all the fabric for the top, the binding and the pattern. Shipping is $6.00 per month if needed.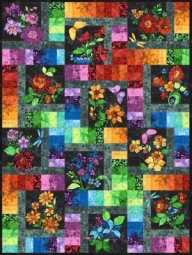 Enchanted Garden Block of the Month featuring "Floragraphix Batiks IV" by Jason Yenter for In the Beginning Fabrics.

This BOM will begin in November 2018 and run for 12 months at a cost of $12.99 per month. Kits will include patterns and all fabrics needed to complete the top and binding. Each month you will receive fabric for the floral appliques and background. NOTE: These are NOT precut laser-fused applique pieces. The finished quilt is approximately 48 1/2" x 64 1/2" quilt.







NEW AGED MUSLINS have become a quilter's favorite new basic, often mixed in with Marcus prints for an interesting alternative to true solids. Now, designer Krisanne Watkins of Quail Valley Quilts brings us "Stargazing" a beautiful new BOM program that casts these gorgeous colors and subtle textures in their own starring role...

Pure and simple, Krisanne's design was inspired by color itself. "Color adds so much depth and texture to my world. My design inspiration for 'Stargazing' is based on that premise. The beautiful, rich colors of New Aged Muslins served as the spark of inspiration to design a new project." Krisanne adds interest to the program by naming each star after a celestial body, such as Pegasus, Orion, Vega and others."

Over the year-long process, quilters will immerse themselves in these saturated, not-quite-solid tones, using easy piecing techniques to create this 92" x 92" masterpiece.

This exciting program begins in September and runs for 13 months (one block per month, plus one month to finish). The cost is $14.99 per month w/o backing or, for only $4.00 more each month($18.99), get the 8 yards of slate blue backing (20% off) also!



---
Recipe of the Month

Simple Gluten Free or Not Gluten Free Apple Crisp
6 large tart cooking apples, thinly sliced ( you can leave the peels on )
1 teaspoon ground cinnamon
Topping
1box Betty Crocker™ Gluten Free yellow cake mix or not gluten free mix
1/2 cup chopped nuts - walnuts or pecans
1 cup rolled oats, not instant
1/2 cup butter, softened
1 teaspoon ground cinnamon
1egg, beaten

Heat oven to 350°F. In large bowl, toss apples and 1 teaspoon cinnamon. Spread apples evenly in ungreased 13x9-inch pan.
In large bowl, mix cake mix and nuts. With pastry blender or fork, cut in butter until crumbly. Add 1 teaspoon cinnamon and the egg; mix well. Sprinkle evenly over apples.

Bake about 45 minutes or until topping is light brown. Serve warm with ice cream.
---