Skip Navigation
Website Accessibility
October Newsletter
Delphine's Quilt Shop, LC
"Piecing the past and the present into the heirlooms of tomorrow!"
Store hours: 10 am to 6 pm Monday thru Saturday


Clubs at Delphine's
Consider joining one of our groups for one day or come on a regular basis, all are welcome. You can bring your own lunch, or treat yourself to a lunch made at one of the restaurants within walking distance.
Mondays - October 1, 8, 15, 22, 29

Whether you are a beginner or an accomplished quilt maker, and if you want to work by hand or by machine, you are welcome.

Comfort Quilters
Thursday, October 11

This group meets on the 2nd Thursday of each month. They work on lap quilts of no particular theme that are donated to veterans through the Otsego County Veterans Affairs Office. All fabrics, patterns and battings are provided by Delphine's and donations, or bring your own. Volunteers who want to work from home are asked

Quilts of Valor Club

Thursday, October 18
New members are always welcome! This group meets on the 3rd Thursday of each month to work on quilts that are donated to veterans and current servicemen. So far, forty-plus quilts have been given away! All fabrics, patterns and battings are provided by Delphine's and donations.


---
Th
e Sew Musical Row x Row Experience 2018 is in its hibernation period and our pattern now costs $3.99 vs being free. The kits will still be for sale in the shop but not on-line until November 1. If you would like to reserve a kit please call or e-mail us with your name and phone number and we will set aside a kit for you to ship in November.
Delphine's block is titled "Quilting Makes My Heart Sing" and the fabric kits are priced at $15.99 and $17.49 (includes binding).
---
---
Upcoming Classes
Jelly Roll Rug
Friday, October 26- 10:30 to 3pm
- FULL
Saturday, November 10 - 10:30 to 3pm
Wednesday, November 14 - 10:30 to 3pm
Cost is $10.00

This rug is all machine sewn; no braiding or crocheting. Make it from a 42 piece 2-1/2 inch strip roll set or use up your scraps. Sign up for this class at a great price as Delphine wants to make another rug anyhow and enjoys the company while doing so.
Machine Quilting w/ Delphine
Wednesday, November 7 - 10:30 to 2:00pm
Cost is $20.00

Learn how effective straight-line quilting can be and also explore your sewing machine's hidden talents as you drop those feed dogs and begin moving the quilt sandwich with your hands! Learn to meander, stipple, make simple feathers, do handwriting and more.
---
BLOCK OF THE MONTH Programs

Prices are per month (shipping is extra) for the duration of the program. After the initial deposit of the last month's payment, your card will not be charged until the middle of each month when we process the packages for that month.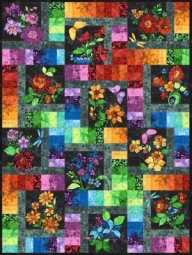 Enchanted Garden Block of the Month featuring "Floragraphix Batiks IV" by Jason Yenter for In the Beginning Fabrics.

This BOM will begin in November 2018 and run for 12 months at a cost of $12.99 per month. Kits will include patterns and all fabrics needed to complete the top and binding. Each month you will receive fabric for the floral appliques and background. NOTE: These are NOT precut laser-fused applique pieces. The finished quilt is approximately 48 1/2" x 64 1/2" quilt.






---

Recipe of the Month


Monster Cookies with Oatmeal

6 eggs (beaten slightly)
1/2 tsp. vanilla
1 cup butter(softened)
2 cups peanut butter (no sugar added)
2 cups white sugar
2 1/4 cups brown sugar (light or dark)
4 tsp. baking soda
9 cups old fashioned oatmeal (chop up in a food processor or blender)
2 cups chocolate chips/chunks (your favorite)
3/4 lb of M & M candies (optional)

This next step is so easy. Put everything into a huge bowl and stir together until blended. Scoop approx. 2 Tbsp dough, per cookie, onto a cookie sheet and bake for 12 minutes at 350 degrees.
---