Skip Navigation
Website Accessibility
December Newsletter
Delphine's Quilt Shop, LC
"Piecing the past and the present into the heirlooms of tomorrow!"
Winter Store Hours:
10 am to 5 pm Monday thru Friday and
10 am to 4 pm Saturday




Delphine's Holiday Hours:


Delphine's will close early (3:00 pm) on Christmas Eve and will be closed all day on Christmas day. We will also close at 3:00 pm on New Year's Eve and will be closed all day New Year's Day.
---
Del
phine and AnnMarie will once again be hosting

The Log House Quilter's Retreats

this winter. The Retreats being held every weekend in March of 2019. There are still a few openings for people to claim - 3 spots are available for the retreat from March 13th to the 17th and 1 spot is open for Retreat #4, March 20th to 24th.

The cost is $300 and includes all your meals from Wednesday dinner to Sunday lunch. The Log House can hold 12 quilters and we are the only ones there so you can stay in your pajamas all day if you wish to do so. No cooking or cleaning is allowed so you can devote yourself to sewing.

The pressing and cutting areas are shared but you do have your own 2' x 4' table to sew at in the space that is normally the main living room. The House is located approx. 15 minutes from the shop and easy to find. Please call the shop at 989-732-1252 to sign up!


---
*Save the Dates*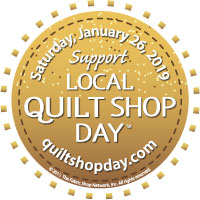 On Friday January 25th & Saturday the 26th of 2019 Delphine's Quilt Shop, LC, Cousin's Quilt Shop and Hearts to Holly Quilt Shop will be teaming up to make

"Shop Your Local Quilt Shop Day"

3 times the fun! Both days will be full of demos, treats, discounts and prizes. More information will be announced shortly.


---
Special Online Promotion

at www.delphinesquiltshop.com
From now to the end of February 2019 we are offering

FREE

Shipping

with a $50 or more purchase made on our website, which features nearly the entire shop! So if the weather gets bad or maybe you are somewhere nice and sunny and can't find what you need, you can get the items you want just by clicking and walking out to your mail box.
(If your order is $50 or more the free shipping option will appear at check-out. Select it and we will send your items to you with no shipping cost)
........................................................................................................................................................................



Starting Thursday, January 3rd - The Tokens of Thyme Club


Would you like to make these 12 small blocks from the Tokens of Thyme pattern by Pastthyme Patterns? They are made with the Marcus Wool Collection of 10 inch squares. Would you like to make them in the company of others quilters?
The blocks finish at 6" and can be used separately or put together into a small quilt. Please consider joining us for 2 - 3 hours the first Thursday of the month throughout 2019 to work on these blocks as we learn stitches and techniques from each other. There is no cost to join provided you buy the pattern and wool from our shop for $74.99. P.S., We have only 3 spaces left!


Introducing "The Circa 1880 Club"
Second Saturday of the Month from 10:30am to 12:00pm - Starting in March


The cost of the club is only for products as there is no attendance fee. For $85.00 members will receive $100.00 worth of fabric, patterns and templates - 26 pieces of the Circa 1880 fabric collection, the pattern and template for the Nine Patch quilt, plus patterns for 6 additional small quilts. Fabric kits for the 6 small quilts will be $75.99 or club members can use their own fabrics to make the small quilts. Club members will need an additional 4 yards of background fabric for the Nine Patch Quilt.

The Circa 1880 Nine Patch quilt is a jaw-dropping beauty of fabric scrappiness. The quilt is a replica of a circa 1880 antique quilt Pam Burda fell madly in love with, so much that she developed The Circa 1800 Club, allowing other quilters to recreate the antique quilt, too. Pam dedicated one hour each morning to making the blocks for the quilt which she now calls her "Hour-A-Day Heirloom!"

Pam soon realized the quilt blocks would be made more quickly, and give a scrappier effect if she traded completed blocks with friends, so she recruited seven quilting buddies. Each created seven identical blocks using strips sets, and then traded the blocks for the scrappiest assortment of blocks possible. Throughout the months, they constantly purchased more and more shirting prints and medium/dark prints to add to their strip collections! Pam's new collection of prints and shirtings, CIRCA PRAIRIE BASICS, provides the essential balance of color and pattern to guarantee success in making the quilt. Then, add your own choices to complete the quilt, making yours unique. It measures approximately 72" x 78"


The Circa 1880 Club is designed to bring quilters together in a special way -- In addition to finding the fabrics to replicate the quilt at your local quilt shop, you can also meet other quilters, trade blocks, learn hints and tricks on working with strip sets and small blocks, and participate in fun activities. The program will be supported by a private Facebook group, where Pam will interact directly with quilters, sharing blocks, tips and inspiration.

As an added benefit, Club participants receive six small quilt projects featuring the same Uneven Nine Patch blocks and all of the new CIRCA PRAIRIE BASICS fabrics designed especially for the Club. So, line up your best quilting buddies, and join the Club at your favorite local quilt shop.

---




A

request and a Thank You from our QOV piecers!


Several people have stepped up and quilted tops for the QOV group! Thank you. If you haven't offered to quilt a top but would like to, we can still use quilters. Please contact the shop at 989-732-1252 if you are able to help.

If you like to sew down binding we could use some volunteers for that task also.

Please contact the shop if you can help us complete quilts needed for upcoming presentations.


---
Clubs at Delphine's
Consider joining one of our Clubs for one day or come on a regular basis, all are welcome. You can bring your own lunch, or treat yourself to a lunch from one of the restaurants within walking distance.
Mondays - December 3, 10, 17, 24, 31

Whether you are a beginner or an accomplished quilt maker, working by hand or by machine, you are welcome to bring your projects and sew with us.

Comfort Quilters
Thursday, December 13

This group meets on the 2nd Thursday of each month. They work on lap quilts of no particular theme that are donated to veterans through the Otsego County Veterans Affairs Office. We have fabrics and batting to use or you can bring your own. Volunteers who want to work from home are welcome and can be supplied with kits.

Quilts of Valor Club

Thursday, December 20 - Members will be joining together for a Christmas lunch at the Sugar Bowl!
New members are always welcome to this patriotic group of quilters! This group meets on the 3rd Thursday of each month to work on quilts that are donated to veterans and current servicemen. So far, forty-plus quilts have been given away! All fabrics, patterns and battings are provided by Delphine's and donations.


---
Th
e Sew Musical Row x Row Experience 2018
is no longer in its hibernation period and we are selling our kits and pattern on-line.
Delphine's block is titled "Quilting Makes My Heart Sing" and the fabric kits are priced at $15.99, and $17.49 (includes binding).
---
---
Upcoming Classes


$10.00 Wednesday Series with Delphine! Pay just $10.00 per class for any of these classes being offered on Wednesdays in the month of January!


Jelly Roll Rug
Wednesday, January 2nd - 10:30am to 3:30pm
Fabric strips, batting and lots of thread will make up this rug.

Ornaments
Wednesday, January 9th - 10:30am to 2:30pm
Have you seen the fabric ornaments that hang above the main cutting area of the shop?
Come in and make one for your sewing room!

Pineapple Block - Paper Piecing on Top
Wednesday, January 16th - 10:00am to 12:30pm
Make this block using pre-printed paper as your guide.
No flipping the paper with this method!

English Paper Piecing
Wednesday, January 23rd, 10:30am to 12:30pm
This class uses paper as templates and
the sewing will be done by hand.

60 Degree Tablerunner
Wednesday, January 30th - 10:30am to 2:30pm
Make beautiful table runners or wall hangings with a 60 degree ruler and border prints.




Saturday classes with Vicki




Improv Curves


Are you wanting to be set free from patterns? This is the class for you. Vicki is an expert in the Improv style of block making so come in and learn from the best.
Saturday, January 19th - 1pm to 4pm
Cost - $15.00


Happy Hour

Saturday, February 9th - 10:30am to 12:30pm
Make these paper pieced blocks featuring adult beverage glasses with the designer of the quilt. This quilt was featured in the digital magazine "Make Modern", in November of 2018.
Cost - $10.00




Economy Block

Saturday, March 23rd - 10:30am to 12:30pm
This class is great for a beginner who wants to sharpen their skills with triangles. Vicki has several tips and tricks for making these blocks.
Cost - $10.00




---

Recipe of the Month

Special Sugar Cookies - Delphine's favorite

1 cup sugar
3/4 cup softened butter
1 egg
3 Tbsp whipping cream
1 tsp. vanilla
1 tsp. almond extract
3 cups all purpose flour - sneak in some whole wheat pastry if you like
1 1/2 tsp. salt
Combine the sugar, butter, egg, cream and extracts together. Beat at medium speed until mixture is light and fluffy. Add the flour, powder and salt. Beat at low speed just until a soft dough forms. Cover and chill the dough for 1 to 2 hours, or until firm. In the meantime heat the oven to 350degrees. Roll the dough on a floured surface (a mixture of flour and confectionery sugar works really good) to 1/4" thickness. Place on parchment lined cookie sheets and bake for 4 - 6 minutes or until edges are light golden brown. Cool and decorate as desired.


---