Skip Navigation
Website Accessibility
October 2020 News - Delphine's Quilt Shop, LC
114 N. Otsego Ave. Gaylord, MI 49735
989-732-1252
www.delphin
esquiltshop.com/
www.facebook.com/delphinesqui

ltshop
delphine@delphinesquiltshop.com
---
OCTOBER
HOURS
10am to 5pm Monday thru Friday
10am to 3pm Saturday

---

12 years of serving the quilting community has flown by and we would like to say Thank you for supporting us. Because of the restrictions, of operating a business
, during the Covid 19 pandemic we will not be hosting a quilt show or having a celebration during the second weekend of October, as in the past. INSTEAD, we are
celebrating all month long!

Everyone will receive a 12% discount on one entire purchase of $30.00 or more during the month of October. Books (always 20% off), classes, blocks of the month programs and on line orders are exempt from the discount. One Door Prize Basket will be given away each week so the more times you shop the more chances to win, though the discount will only be applied once to your purchases.

---
Please continue reading this newsletter to see 3 NEW Block of the Month programs we are offering, new classes, including one via Zoom and a wonderful apple cake recipe.

---

If you are unable to wear a mask for medical reasons or are uncomfortable shopping, even with a mask due to health concerns, we are offering Shopping by Appointment! There are 2 times available on Mondays, Wednesdays and Fridays from 9am to 9:45 am or 5pm to 5:45 pm where you can come in and be the solo shopper with Delphine to assist you.
Please call the shop 24 hours in advance in make your reservation.

The website is open 24/7 and offers Free Shipping on orders over $25.00 (the 12% discount does not apply to on-line orders).

Face Masks, over the nose and mouth, are required in the store and
Hand Sanitizer is available.

Please check out our Facebook page for posts about new samples and collections. www.facebook.com/DelphinesQuiltShop

---
New Service
EDGE-G is a Scissor sharpening service (14 years) located in Gaylord. If you have scissors that need sharpening you can drop them off at the shop and we will arrange to have them sharpened and returned to the shop for you to pick up.
The fee is $5.00 per scissor.


---

Meetings and Clubs

Please call ahead to confirm you will be attending so we can stay under 8 people per gathering.

All are welcome to join us for just one day or come on a regular basis. You can bring your own lunch or treat yourself to a lunch from one of the restaurants within walking distance.

Just Sew With Us
Mondays: 5th, 12th, 19th, 26th
10am to 4pm


Whether you are a beginner or an accomplished quilt maker, working by hand or by machine, you are welcome to bring your projects and sew with us.

WOOL Workers Club
1st Thursday - 1st
10:30am to 1pm
Do you like to work with Wool? Whether you are a novice or advanced in your wool working skills, you are invited to join others of like mind. Share your love of wool work with others and be inspired.
Comfort Quilters
The 2nd Thursday - 8th
10:30am to 4pm

This group meets on the 2nd Thursday of each month. They work on lap quilts of no particular theme that are donated to veterans through the Otsego County Veterans Affairs Office. We have fabrics and batting to use, or you can bring your own. Volunteers who want to work from home are welcome and can be supplied with kits. This group will take donations of lap quilts or lap sized quilt tops if you happen to have any to share. Over 400 quilts have been given out through the local VA office!

Patriotic Quilters of Gaylord
3rd Thursday - 15th
10:30am to 4pm

New members are always welcome to this patriotic group of quilters! This group meets on the 3rd Thursday of each month to work on quilts that are presented to veterans and current servicemen. So far, 100+ quilts have been given away!

We continue to have a need for long arm quilters, so if you haven't offered to quilt a top but would like to, we can still use quilters. Please contact the shop at 989-732-1252 if you are able to help.

We can also use folks to sew on binding and do piecework. You can meet with the groups on their Sewing Days or work from home


HAND Work Club
3rd Wednesday - 21st
10am to 1pm
10:30am to 1pm
This group likes to piece their projects by hand and welcome you to join them. It's a quiet time since no machines are allowed. Perhaps you are hand piecing a project and would like some fellowship while doing so. This is the group for you.


---
Block of the Month Programs

There are no fees to join. Please call the shop at 989-732-1252 to sign up.

Stargazing - 1 opening!


The quilt measures 92" square. This BOM was originally introduced in 2019 using New Aged Muslins by Marcus Textiles but we decided to wait and do it in P&B Suede and Maywood Shadowplay. This is a 6 month program at the cost of $37.98 ($18.99 x 2) per month. There are 12 star blocks, sashing blocks and pieced cornerstones which combine to make a great design. The directions are easy to follow and color coded through out.

The 3rd Saturday, of each month @ 10:30am we have a short meeting to discuss that month's blocks. Shipping is only $5.00 per month for those who cannot attend the meetings or come in during the month to pick up their packets.




American Glory and Cross Section are Twin Sampler Quilts (61 1/2" x 81") from Wilmington Prints. You will sign up for either one and then receive 2 blocks per month for 8 months. Perfect for the confident beginner or the advanced piecer. The shop kits have just arrived and we will be starting them at once. Stop by the shop to see the fabrics in person and a large poster of the quilts. It's going to be hard to pick which color way to make!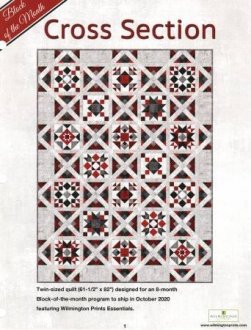 This program is scheduled to start start in November provided the fabric arrives in time (all pre-ordered fabrics have seen delivery delays since April). The cost, per month (8 months), is $17.99 with shipping capped at $3.00 per month for those who cannot pick up their bundles in person.





Fantasy is the name of this beautiful quilt from Timeless Treasures and Wing and a Prayer who teamed up again to design a batik quilt that measures 102" square. 14 fabrics are used in this quilt.

Our sample is pieced and at the quilters so you will be able to view it in person very soon.

This program is scheduled to start in January of 2021.

Cost is $21.99 per month for all 12 months of fabric plus the in depth pattern. Sign up early, by October 31st, and receive a 4 1/2" Creative Grids ($10.99 value) ruler at no cost. The Ultimate Flying Geese Ruler is also recommended and can be pre-ordered for only $26.79 (20% off $33.49). Oops packages of 1/8th yard cuts will be available as long as supplies last for $21.99.




---
Classes

Fabric Ornaments

This no sew project is fun and relaxing plus it produces a beautiful ornament to hand up year round. The base fabric is by Paula Nadelstern for Benartex and the shop has it in 4 colorways. All you need is a styrofoam ball, fabric, beads, pins and sequins plus time.

Thursday, October 22 - 10:30am to 2:30pm
Cost is $15.00 and Delphine, who has made 12 of these beauties will be your teacher.



Beginner Quilting Class with Jen

This class is tailored for a beginner quilter. Jen will walk you through the process of picking out fabrics, cutting fabric, piecing blocks and adding borders. In this 6-week class you will complete the top of a small baby-size quilt or wall hanging.

Tuesday's - October 13, 20, 27 and November 3, 10 17
5:30pm to 7:30pm

Cost of class is $60.00




ZOOM Class on Self Binding with Min
ky

Linda White, a Shannon ambassador, will be teaching a Virtual class in self binding Minky fabric for a quick, easy and oh so, soft blanket! The class fee is $10.00 unless you purchase your Minky fabric from us, then it is $5.00 plus you will get a coupon on a future purchase of Minky
from us!

Not using Zoom? No worries, we have all the information you need to get set up for this class!


Tuesday, October 22
10am to 12pm (EDT)
Cost - $10.00






---

Recipe of the Month


Legacy Apple Cake with Brown Sugar Frosting

2 1/2 cups whole wheat flour, traditional or white whole wheat
(I used whole wheat pastry flour)
1/2 teaspoon baking soda
1/2 teaspoon baking powder
1 teaspoon salt
1 teaspoon ground cinnamon
1/2 teaspoon ground nutmeg
1/2 teaspoon ground allspice, or 2 teaspoons apple pie spice (I used the apple pie spice)
1 cup or 2 sticks unsalted butter
1 cup packed light or dark brown sugar
1 cup granulated sugar
3 large eggs
1/4 cup boiled cider or apple juice concentrate (I boiled down apple cider till it was thick
but you can also purchase it at www.kingarthurflour.com
1 teaspoon vanilla extract
4 cups peeled, chopped apples (I didn't peel mine)
1 cup walnuts, chopped

Brown Sugar Frosting
5 tablespoons unsalted butter
1/2 cup firmly packed light or dark brown sugar
1/4 teaspoon salt
3 tablespoons milk
1 1/2 cups confectioners' sugar
1/2 teaspoon vanilla extract

Preheat the oven to 325 degrees. Grease and flour a 9 x 13 pan or 2 9-inch round pans.

Whisk together the flour, baking soda, baking powder, salt and spices in a medium bowl; set aside. Cream together the butter and sugars in a large mixing bowl until light and fluffy. Beat in the eggs, one at a time, stopping in-between to scrape the sides and bottom of the bowl. Mix in the boiled cider (or apple juice concentrate) and vanilla. Mix in the dry ingredients, stirring until evenly moistened. Fold in the apples and walnuts.

Transfer the batter to the prepared pan(s). Bake until a cake tester inserted in the center comes out clean, 25 to 30 minutes for the rounds, or 45 minutes for the sheet cake. Remove the cake(s) to a wire rack and cook completely. Start the frosting after the cake(s) are cool.

Melt the butter in a small pan over medium heat. Stir in the brown sugar and salt and cook, stirring, until the sugar melts. Add the milk, bring to a boil and pour into a mixing bowl to cool for 10 minutes.

After 10 minutes, stir in the confectioners' sugar and vanilla. Beat well; if the mixture appears too thin, add more confectioners' sugar. Spread on the cake while the frosting is still warm; it will firm up and be more difficult to spread once it cools.



---


Go to www.delphinesquiltshop.com/newsletter.htm if your email server doesn't show this newsletter in its entirety.