10am to 5pm Monday thru Friday
10am to 3pm Saturday

---
It's a little early, but we would like to say Happy Thanksgiving to you and hope that you are well. We know the holiday season will not be the same as years past, but different doesn't have to be a bad thing. Let's get creative and let optimism be the rule despite the challenging circumstances; make new traditions and view the season from a different perspective. That's the plan here at Delphine's. We're posting videos on Facebook, scheduling Zoom Classes, and keeping inventory current on our website, where you can always find almost everything in the store. And as part of our new dress code, we are all wearing our masks (with smiles underneath).

The winners of the 5 door prize drawings in October were: Sue Warrington, Sarah Elllis, Diana Knapp, Kathi Riehl and Beth Lienhart.

---

If you are unable to wear a mask for medical reasons or are uncomfortable shopping even with a mask due to health concerns, we are offering Shopping by Appointment! Simply call the shop at 989.732.1252 to arrange a time and date.

The website is open 24/7 and offers Free Shipping on orders over $50.00

Please check out our Facebook page for posts about new samples and collections. www.facebook.com/DelphinesQuiltShop

---

Meetings and Clubs

Please call ahead to confirm you will be attending so we can stay under 8 people per gathering.
All are welcome to join us for just one day or come on a regular basis. You can bring your own lunch or treat yourself to a lunch from one of the restaurants within walking distance.

Just Sew With Us
Mondays: 2nd, 9th, 16th, 23rd, 30th
10am to 4pm


Whether you are a beginner or an accomplished quilt maker, working by hand or by machine, you are welcome to bring your projects and sew with us.

WOOL Workers Club
1st Thursday - 5th
10:30am to 1pm
Comfort Quilters
2nd Thursday - 12th
10:30am to 4pm
This group meets each month and members work on lap quilts of no particular theme that are donated to veterans through the Otsego County Veterans Affairs Office. We have fabrics and batting to use, or you can bring your own. Volunteers who want to work from home are welcome and can be supplied with kits. This group will take donations of lap quilts or lap sized quilt tops if you happen to have any to share. Over 400 quilts have been given out through the local VA office!

Patriotic Quilters of Gaylord
3rd Thursday - 19th
10:30am to 4pm

New members are always welcome to this patriotic group of quilters! This group meets on the 3rd Thursday of each month to work on quilts that are presented to veterans and current servicemen. So far, 100+ quilts have been given away!

We continue to have a need for long arm quilters, so if you haven't offered to quilt a top but would like to, we can still use quilters. Please contact the shop at 989-732-1252 if you are able to help.

We can also use folks to sew on binding and do piecework. You can meet with the groups on their Sewing Days or work from home


HAND Work Club
3rd Wednesday - 18th
10am to 1pm

This group likes to piece their projects by hand and welcome you to join them. It's a quiet time since no machines are allowed. Perhaps you are hand piecing a project, knitting or doing some other form of hand work and would like some fellowship while doing so. This is the group for you.


---
Block of the Month Programs

There are no fees to join and you need to call the shop at 989-732-1252 to sign up.

American Glory and Cross Section are Twin Sampler Quilts (61 1/2" x 81") from Wilmington Prints. You will sign up for either one and then receive 2 blocks per month for 8 months. Perfect for the confident beginner or the advanced piecer. Stop by the shop to see the fabrics in person and a large poster of the quilts. It's going to be hard to pick which color way to make!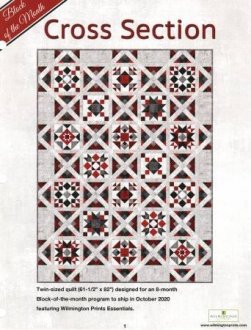 These programs are scheduled to start in December at a cost per month (8 months) of $17.99 with shipping capped at $3.00 per month for those who cannot pick up their bundles in person. The shop samples will be on display soon!




Fantasy is the name of this beautiful quilt from Timeless Treasures and Wing and a Prayer who teamed up, again, to design a batik quilt that measures 102" square. 14 fabrics are used in this quilt.

This program is scheduled to start in January of 2021 at a cost of $21.99 per month for 12 months of fabric plus the in depth pattern. Sign up early, by November 30th, and receive a 4 1/2" Creative Grids ($10.99 value) ruler at no cost. The Ultimate Flying Geese Ruler is also recommended and can be pre-ordered for only $26.79 (20% off $33.49). Oops packages of 1/8th yard cuts will be available as long as supplies last for $21.99.

The shop sample is hanging at the store and is gorgeous!




---
Classes

Fabric Ornaments
Saturday, December 5- 10:30am to 2:30pm

This no sew project is fun and relaxing plus it produces a beautiful ornament to display year round. The base fabric is by Paula Nadelstern for Benartex and the shop has it in 4 colorways. All you need is a styrofoam ball, fabric, beads, pins and sequins plus time.
Cost is $15.00 and Delphine who has made 12 of these beauties will be your teacher.



Winter's Woodland Gifts
Tuesday, December 1st: 10:30 to 3:00pm
This dimensional wool art pine tree bough decoration for your wall or door requires no sewing and until a few tools to complete. We carry complete kits for $74.99, patterns with the heart shaped bow included or patterns with the bow, wires and floral tapes.
Cost is $20.00.


Jelly Roll Rug Class with Delphine

Saturday, December 12th: 10:30 am to 3:00pm
If you haven't made one of these rugs yet consider signing up for a fun and productive class to make one. Delphine has led several classes through the process and has made 4 herself.
Cost is $20.00.

---

EDGE-G is a Scissor sharpening service (14 years) located in Gaylord. If you have scissors that need sharpening you can drop them off at the shop and we will arrange to have them sharpened and returned to the shop for you to pick up.
The fee is $5.00 per pair, cash or check only.


---

Recipe of the Month

Vermont Oatmeal Maple-Honey Bread

2 1/4 to 2 1/2 cups boiling water
1 cup thick oat flakes
1/2 cup maple sugar or brown sugar

1/2 teaspoon maple flavor (optional)
1 tablespoon honey
4 tablespoons butter
1 tablespoon salt
1 teaspoon cinnamon
1 tablespoon instant yeast
1 1/2 cups whole wheat flour
4 cups unbleached all-purpose flour

In a large mixing bowl, combine the water, oats, maple sugar, maple flavor, honey, butter, salt and cinnamon. Let cool to lukewarm.

Add the yeast and flours, stirring to form a rough dough. Knead about 10 minutes by hand, (5 to 7 minutes by machine) until the dough is smooth and satiny. Transfer the dough to a lightly greased bowl, cover the bowl with lightly greased plastic wrap, and let the dough rise for 1 hour; it should double in bulk.

Divide the dough in half and shape each half into a loaf. Place the loaves in two greased 81/2" s 41/2" inch bread pans. cover the pans with lightly greased plastic wrap (or a proof cover) and allow the loaves to rise until they've crowned about 1 inch over the rim of the pan, about 1 hour.

Preheat the over to 350 degrees. Bake the loaves for 35 to 40 minutes. Remove them from the oven when they're golden brown and the interior registers 196 degrees on an instant-read thermometer.



---


Go to www.delphinesquiltshop.com/newsletter.htm if your email server doesn't
show this newsletter in its entirety.