Skip Navigation
Website Accessibility
End of November 2020 News - Delphine's Quilt Shop, LC
114 N. Otsego Ave. Gaylord, MI 49735
989-732-1252
www.delphin
esquiltshop.com/
www.facebook.com/delphinesqui

ltshop
delphine@delphinesquiltshop.com
10am to 5pm Monday thru Friday
10am to 3pm Saturday

---
We are hosting our

First Cybersale

which starts Today and will last thru 11:59pm Monday the 30th. The entire website is 20% off and you can either pay the shipping, pick up in the shop or pick up via curbside service. If you've never looked at the website this is a great time to check it out.

Use coupon code 20 at checkout to receive your discount.



---
Meetings and Clubs

Please call ahead to confirm you will be attending so we can stay under 8 people per gathering.

Just Sew With Us
Mondays: 7th, 14th, 21st, 28th
10am to 4pm


WOOL Workers Club
1st Thursday - 3rd
10:30am to 1pm
Comfort Quilters
- No Meeting this Month, at the shop
2nd Thursday
10:30am to 4pm
Patriotic Quilters of Gaylord - No Meeting this month, at the shop
3rd Thursday
10:30am to 4pm

HAND Work Club
3rd Wednesday - 16th
10am to 1pm


---
Block of the Month Programs

There are no fees to join, just call the shop at 989-732-1252 to sign up.

American Glory and Cross Section are Twin Sized Sampler Quilts (61 1/2" x 81") from Wilmington Prints. You will sign up for either one and then receive 2 blocks per month for 8 months. Perfect for the confident beginner or the advanced piecer. Stop by the shop to see the quilts in person. It's going to be hard to pick which color way to make!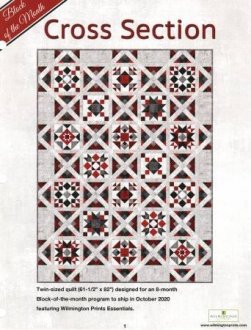 These programs are scheduled to start in December at a cost per month (8 months) of $17.99 with shipping capped at $3.00 per month for those who cannot pick up their bundles in person. Stop by today and see the shop samples!




Fantasy is the name of this beautiful quilt from Timeless Treasures and Wing and a Prayer who teamed up, again, to design a batik quilt that measures 102" square. 14 fabrics are used in this quilt.

This program is scheduled to start in January of 2021 at a cost of $21.99 per month for 12 months of fabric plus the in depth pattern. Sign up early, by November 30th, and receive a 4 1/2" Creative Grids ($10.99 value) ruler at no cost. The Ultimate Flying Geese Ruler is also recommended and can be pre-ordered for only $26.79 (20% off $33.49). Oops packages of 1/8th yard cuts will be available as long as supplies last for $21.99.

The shop sample is hanging at the store and is gorgeous!




---
Classes

Fabric Ornaments
Saturday, December 5- 10:30am to 2:30pm

This no sew project is fun and relaxing plus it produces a beautiful ornament to display year round. The base fabric is by Paula Nadelstern for Benartex and the shop has it in 4 colorways. All you need is a styrofoam ball, fabric, beads, pins and sequins plus time.
Cost is $15.00 and Delphine who has made 12 of these beauties will be your teacher.


Jelly Roll Rug Class with Delphine

Saturday, December 12th: 10:30 am to 3:00pm
If you haven't made one of these rugs yet consider signing up for a fun and productive class to make one. Delphine has led several classes through the process and has made 4 herself.
Cost is $20.00.

---

EDGE-G is a Scissor sharpening service (14 years) located in Gaylord. If you have scissors that need sharpening you can drop them off at the shop and we will arrange to have them sharpened and returned to the shop for you to pick up. The fee is $5.00 per pair, cash or check only, payable at time of drop off.

The shop is a drop off /pick up location for A & K Sewing Machine Repair out of Grayling. Need a machine repaired or tuned up? Call Aaron Lee at 517.260.7331 to make arrangements.


---
If you are unable to wear a mask for medical reasons or are uncomfortable shopping even with a mask due to health concerns, we are offering Shopping by Appointment! Simply call the shop at 989.732.1252 to arrange a time and date.

The website is open 24/7 and offers Free Shipping on orders over $50.00 except for Cyber Monday.

Please check out our Facebook page for posts about new samples and collections. www.facebook.com/DelphinesQuiltShop

---

Go to www.delphinesquiltshop.com/newsletter.htm if your email server doesn't
show this newsletter in its entirety.