Skip Navigation
Website Accessibility
January 2021 - Delphine's Quilt Shop, LC

114 N. Otsego Ave. Gaylord, MI 49735
989-732-1252
www.delphin
esquiltshop.com/
www.facebook.com/delphinesqui

ltshop
delphine@delphinesquiltshop.com
---
On February 6th we are hosting a QOV (Quilts of Valor) Sew Saturday! If you have considered making a QOV quilt but haven't attended one of our monthly meetings, this is a great opportunity for you. All materials are provided, you just need to bring a sewing machine and basic supplies. Attendance is limited to 9 people so you must register with the shop at 989-732-1252 to attend. A homemade soup will be served for lunch.

The shop has 2 Ionizer Air Filters running 24/7 to clean the air in the building plus help protect you from Covid-19. Masks, over the nose and mouth will be required.
---

All Christmas and Blender Metallic Fabrics and everything else Christmas is currently 20% off with 1/2 yard minimum cuts.


---

Meetings and Clubs in January 2021

Please call ahead to confirm you will be attending so we can stay under
5 people per gathering.

Just Sew With Us
Mondays: 4th, 11th, 18th, 25th
10am to 4pm

WOOL Workers Club
1st Thursday - 7th
10:30am to 1pm
Comfort Quilters
2nd Thursday
- 14th
10:30am to 4pm
Patriotic Quilters of Gaylord
3rd Thursday - 21st
10:30am to 4pm

HAND Work Club - New Date
3rd Wednesday - 20th
10am to 1pm


---
Block of the Month Programs

There are no fees to join, just call the shop at 989-732-1252 to sign up.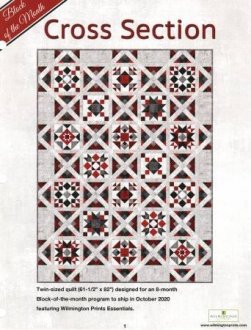 American Glory and Cross Section are Twin Sized Sampler Quilts (61 1/2" x 81") from Wilmington Prints. You will sign up for either one and then receive 2 blocks per month for 8 months. Perfect for the confident beginner or the advanced piecer. Stop by the shop to see the quilts in person. It's going to be hard to pick which color way to make!


American Glory will be shipping shortly but we are waiting on the fabrics for Cross Section to arrive so they can be cut and prepared to distribute. Both programs cost $17.99 per month (8 months) with shipping now capped at $5.00 per month for those who cannot pick up their bundles in person. Stop by today and see the shop samples!



Fantasy is the name of this beautiful quilt from Timeless Treasures and Wing and a Prayer who teamed up, again, to design a batik quilt that measures 102" square. 14 fabrics are used in this quilt.

This program is scheduled to start in early of 2021 at a cost of $21.99 per month for 12 months of fabric plus the in depth pattern. Oops packages of 1/8th yard cuts will be available as long as supplies last for $21.99. Shipping will be capped at $6.00 per month.







---
Classes - Due to Covid-19 and winter weather, which is so unpredictable, we are not holding any classes until March. They will be announced in the February newsletter.


---
Recipe of the Month

Follow the link below to easy to make and great tasting cinnamon rolls! The recipe calls for real milk but I used Oat milk in my first batch. I used lactose free whole milk in my second and third batches and couldn't tell a difference.

https://www.kingarthurbaking.com/recipes/perfectly-pillowy-cinnamon-rolls-recipe


---


If you are unable to wear a mask for medical reasons or are uncomfortable shopping even with a mask due to health concerns, we are offering Shopping by Appointment! Simply call the shop at 989.732.1252 to arrange a time and date.

The website is open 24/7 and offers Free Shipping on orders over $50.00.

Please check out our Facebook page for posts about new samples and collections. www.facebook.com/DelphinesQuiltShop

---

Go to www.delphinesquiltshop.com/newsletter.htm if your email server doesn't
show this newsletter in its entirety.