---
Today is a SnowDay here in Gaylord.
Take 15% off your entire web order today, February 5th, 2021, with a minimum purchase of $30.00. Coupon expires at midnight.
Use SnowDay in the coupon/code box when checking out.
---


The following event has been cancelled -On February 6th we are hosting a QOV (Quilts of Valor) Sew Saturday! If you have considered making a QOV quilt but haven't attended one of our monthly meetings, this is a great opportunity for you. All materials are provided, you just need to bring a sewing machine and basic supplies. Attendance is limited to 9 people so you must register with the shop at 989-732-1252 to attend. A homemade soup will be served for lunch.

The shop has 2 Ionizer Air Filters running 24/7 to clean the air in the building plus help protect you from Covid-19. Masks, over the nose and mouth will be required.
---
Block of the Month Programs

There are no fees to join, just call the shop at 989-732-1252 to sign up.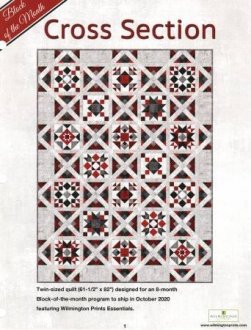 American Glory (sold-out) and Cross Section are Twin Sized Sampler Quilts (61 1/2" x 81") from Wilmington Prints. You will sign up for either one and then receive 2 blocks per month for 8 months. Perfect for the confident beginner or the advanced piecer. Stop by the shop to see the quilts in person. It's going to be hard to pick which color way to make!


The fabrics for Cross Section are expected in March. Both programs cost $17.99 per month (8 months) with shipping now capped at $5.00 per month for those who cannot pick up their bundles in person. Stop by today and see the shop samples!



Fantasy is the name of this beautiful quilt from Timeless Treasures and Wing and a Prayer who teamed up, again, to design a batik quilt that measures 102" square. 14 fabrics are used in this quilt.

This program starts Now! We are cutting the fabrics and will have the kits packaged soon. The cost is $21.99 per month for 12 months of fabric plus the in depth pattern. Oops packages of 1/8th yard cuts will be available as long as supplies last for $21.99. Shipping will be capped at $6.00 per month.







---


If you are unable to wear a mask for medical reasons or are uncomfortable shopping even with a mask due to health concerns, we are offering Shopping by Appointment! Simply call the shop at 989.732.1252 to arrange a time and date.

The website is open 24/7 and offers Free Shipping on orders over $50.00.

Please check out our Facebook page for posts about new samples and collections. www.facebook.com/DelphinesQuiltShop

---

Go to www.delphinesquiltshop.com/newsletter.htm if your email server doesn't
show this newsletter in its entirety.