Skip Navigation
Website Accessibility
April 2021 - Delphine's Quilt Shop, LC

114 N. Otsego Ave. Gaylord, MI 49735
989-732-1252
www.delphin
esquiltshop.com/
www.facebook.com/delphinesqui

ltshop
delphine@delphinesquiltshop.com
---
Welcome to the April 2021 newsletter from Delphine's.

---

We will be closed from Noon to 3pm this Friday, April 2nd in observance of Good Friday.
---
Aurora by Timeless Treasures has arrived

and has a lot of possibilities.










We also brought in some bolts of Art Theory by Allison Glass for Andover, here's a few of them.
---
A follow-up newsletter will be sent with a listing of spring time classes.


---
Sewing Groups at the Shop
Please call ahead to confirm you will be attending so we can stay under
5 people per gathering.
Just Sew With Us

-
A time set aside for hand or machine work on sewing, quilting, knitting or whatever your textile interest is.

Mondays: 5th, 12th, 19th, 26th
10am to 4pm

WOOL Workers Club
- Join fellow sewists who enjoy the feel of wool and share your knowledge or pick up new ideas.
1st Thursday - 1st
10:30am to 1pm
Comfort Quilters
- Lap quilts are made to give primarily to the local Veterans Affair Office for distribution to veterans of northern lower Michigan.
Fabrics are provided by the group.
2nd Thursday
- 8th
10:30am to 4pm
Patriotic Quilters of Gaylord - This group has made over 220 twin sized quilts to distribute as QOV quilts to local veterans who are presented them at the monthly meetings. Fabrics are provided by the group and local long arm quilters provide the quilting.
3rd Thursday - 15th
10:30am to 4pm

HAND Work Club - As the name implies the folks attending this meeting enjoy working with their hands to piece quilts, to applique and to make other items.
3rd Wednesday - 21st
10am to 1pm

---

The shop has 2 Ionizer Air Filters running 24/7 to clean the air in the building and to help protect you from Covid-19. Masks, over the nose and mouth are still required. Thank you!
---
Block of the Month Programs - Only one space left.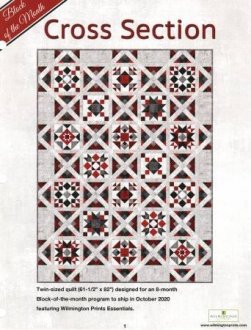 There are no fees to join, just call the shop at 989-732-1252 to sign up.

Cross Section is a Twin Sized Sampler Quilt (61 1/2" x 81") from Wilmington Prints. You'll receive enough fabric to make 2 sets of 2 blocks per month for 8 months. Perfect for confident beginners to advanced piecers. Stop by the shop to see the quilt in person.

The fabrics for Cross Section are here and being cut! The program costs $17.99 per month (8 months) with shipping now capped at $5.00 per month for those who cannot pick up their bundles in person. Stop by today and see the shop sample!






---
If you are unable to wear a mask for medical reasons or are uncomfortable shopping even with a mask due to health concerns, we are offering Shopping by Appointment! Simply call the shop at 989.732.1252 to arrange a time and date.

The website is open 24/7 and offers Free Shipping on orders over $50.00.

Please check out our Facebook page for posts about new samples and collections. www.facebook.com/DelphinesQuiltShop

---
Recipe of the Month

Delphine's Quick No-Knead Bread

2 cups white flour
1 cup whole wheat flour
1 teaspoon instant yeast
1 1/2 teaspoons salt
1 1/2 cup warm water
1 tablespoon brown sugar
1 teaspoon distilled vinegar
extra flour for working with the dough

Combine flour, yeast and salt (do not put the salt in direct contact with the yeast).
Mix the water, sugar and vinegar together. Stir this mixture into the flour mixture until it's well combined.
After about 3 hours the dough will become puffy and dotted with bubbles. Transfer it to a well-floured surface and sprinkle dough with a little flour. Using a dough scraper or floured hands
shape into a rough ball.
Place into a dutch oven or oven proof bowl lined with parchment paper and let rise until doubled. You'll know it's ready when it doesn't bounce back when you indent the surface with a finger tip.
Place in a cold oven with lid on the dutch oven or bowl and turn oven to 400 degrees. After 20 minutes lower oven temperature to 350 degrees and remove lid. Bake another 20 minutes.
Its done when it's internal temperature is 200 degrees.


---
Services Available at Delphine's

Scissor Sharpening by Edge-G of Gaylord. Glen has many years of experience sharpening scissors. You can drop them off at the shop to be serviced. The fee is generally $5.00 a pair.

Have your Sewing Machine serviced and/or repaired by Aaron of A & K Sewing from Grayling. He also has many years of experience at his trade. The cost of a cleaning is $60.00. Aaron can be reached at 517-260-7331. Give him a call to arrange a pick up date for your machine.

---

Go to www.delphinesquiltshop.com/newsletter.htm if your email server doesn't
show this newsletter in its entirety.