---
Welcome to the May 2021 Newsletter from Delphine's
---
Just as May flowers are starting to come out so too are quilters. It's been great to see folks that haven't been in during the pandemic and to hear about the quilts that have been made. I don't know of any sewist or quilter that got bored this past year!
---
F
oundation Pieced Log Cabin Classes with Jen -
Cost is $15.00 per person
Wednesday, May 21st or June 2nd or June 23rd from 1-3pm on each day -


1 session but 3 days to choose from



Interested in learning how to foundation paper piece? Come join Jen to
make these fun scrappy Log Cabin blocks! You choose either 6" finished blocks or 12" finished blocks, using your scraps, strips or yardage. Once you make one, you won't want to stop. Call to reserve your spot today.


Class size is limited to 4 people and no equipment needs to be shared for your safety and convenience.
Free Motion Quilting Class with Delphine -
Cost is $20.00 per person
Tuesday June 1st or 15th 1-5pm either day - 1 session but 2 days to chose from
Delphine has been free motion quilting quilts of all sizes for over 20 years.
Sign up for this class and give you hands and machine a try to the various steps involved with this technique.
Class size is limited to 4 people and no equipment needs to be shared for your safety and convenience.
Do your own project day at Delphine's
-

Cost is $25 per person
Tuesday, June 29th 10:30am to 3:30 pm (or longer as needed)
Have you wanted to take a class at Delphine's but the day and time didn't work for you? This class is designed just for you. Whether you want to make a rug, a 2 Fabric Bargello quilt top, a Beaded Ornament or something else, this class is for you. When you sign up for the class you will have to name your project so that Delphine can prepare for your time together.
Class size is limited to 4 people.
---
Sewing Groups at the Shop
We welcome you to come back or attend a meeting for the first time. We just ask that you please call ahead to confirm you will be attending so we can stay under 6 people per gathering.
Just Sew With Us

-
A time set aside for hand or machine work on sewing, quilting, knitting or whatever your textile interest is.

Mondays: 3rd, 10th, 17th, 24th
10am to 4pm

WOOL Workers Club
- Join fellow sewists who enjoy the feel of wool, share your knowledge or pick up new ideas.
Beginners to advanced wool workers are welcome.
1st Thursday - 6th
10:30am to 1pm
Comfort Quilters
- Lap quilts are made to give primarily to the local Veterans Affair Office for distribution to veterans of northern lower Michigan.
Fabrics are provided by the group.
2nd Thursday
- 13th
10:30am to 4pm

Patriotic Quilters of Gaylord - This group has made over 220 twin sized quilts to distribute as QOV quilts to local veterans who are presented them at the monthly meetings. Fabrics are provided by the group and local long arm quilters provide the quilting.
3rd Thursday - 20th
10:30am to 4pm


---

The shop has 2 Ionizer Air Filters running 24/7 to clean the air in the building.
Masks, over the nose and mouth are still required. Thank you!
---
Block of the Month Programs - Only one space left.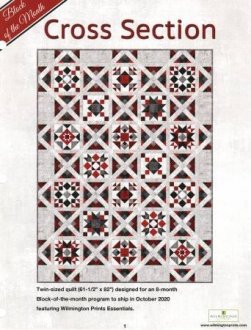 There are no fees to join, just call the shop at 989-732-1252 to sign up.

Cross Section is a Twin Sized Sampler Quilt (61 1/2" x 81") from Wilmington Prints. You'll receive enough fabric to make 2 sets of 2 blocks per month for 8 months. Perfect for confident beginners to advanced piecers. Stop by the shop to see the quilt in person.

The fabrics for Cross Section are here and being cut! The program costs $17.99 per month (8 months) with shipping now capped at $5.00 per month for those who cannot pick up their bundles in person. Stop by today and see the shop sample!






---
If you are unable to wear a mask for medical reasons or are uncomfortable shopping even with a mask due to health concerns, we are offering Shopping by Appointment! Simply call the shop at 989.732.1252 to arrange a time and date.

The website is open 24/7 and offers Free Shipping on orders over $50.00.

Please check out our Facebook page for posts about new samples and collections. www.facebook.com/DelphinesQuiltShop

---
Recipe of the Month

Natilla: Creamy Custard from https://www.foodandwine.com/recipes/natilla-creamy-custard
My daughter is raising chickens and I seem to have an abundance of eggs in my refrigerator these days. Having a dairy sensitivity I made this recipe with Creamy Oat Milk by Chobani. While the custard was not thick like a milk custard it was delicious.
The egg custard can be refrigerated for up to 3 days.
---
Services Available at Delphine's

Scissor Sharpening by Edge-G of Gaylord. Glen has many years of experience sharpening scissors. You can drop them off at the shop to be serviced. The fee is generally $5.00 a pair.

Have your Sewing Machine serviced and/or repaired by Aaron of A & K Sewing from Grayling. He also has many years of experience at his trade. The cost of a cleaning is $60.00. Aaron can be reached at 517-260-7331. Give him a call to arrange a pick up date for your machine.

---

Go to www.delphinesquiltshop.com/newsletter.htm if your email server doesn't
show this newsletter in its entirety.